Hi All,
Just thought i'd make a diary of my new R1100S experience. I hope this is the right section.
Little admission to start... i'm not really a die-hard biker. If i'm getting my knee down it's probably because i've fallen off. Bikes for me have to spark an aesthetic interest, irrespective of their capabilities. That's lost me a lot of friends on here already! Stick with me.
It all started with a Honda VFR400R (NC30) - it's what I did my 'direct access' test for - but it's far too tiny (I'm 6'1") and I can't actually ride it for more than 15 mins before pain! It now resides indoors an ornament...
Then my second dream bike, my BMW K1 - but i'm scared to use it as parts are drying up, especially that irreplaceable fairing. It also has comedy luggage space. It's a sport tourer that is rubbish at touring!
It too has become an ornament...
So bottom line, two bikes, and neither one I can actually use!
My mates have an annual European bike trips and I'd love to go along, so needed a usable bike, but one that sparks an interest to preserve.
I remembered this very press photo, and it's been in the back of my mind for over a decade...
As usual, i'm a sucker for a good colour scheme... yellow wheels, chequers, top exit exhaust… all lovely. It must be a yellow wheel thing!
Had an eBay saved search for ages. Then, one cropped up in Peterborough, just up the road. I had the opportunity to inspect before bidding.
I didn't want a garage queen, I have two of those already and they just aren't usable. This bike was a good start. I think it lived on the street. Checked it over, all seemed good, no rattles, started on the button, engine dry of oil leaks. Non-ABS model so less to go wrong.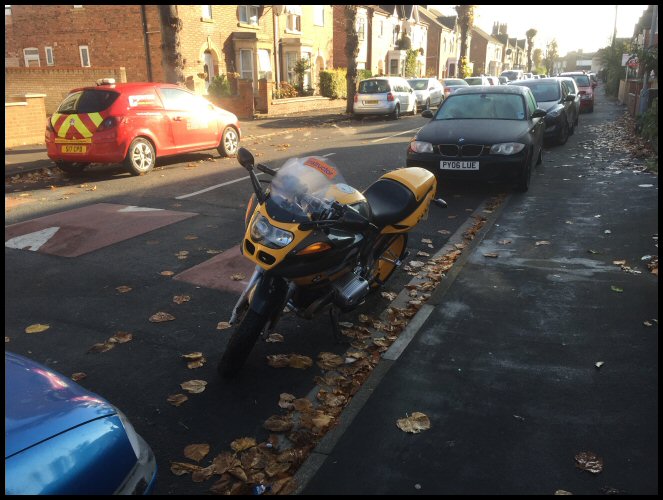 Usual eBay story, went over budget bidding after a few beers, but it's all forgotten now.
I rode it home and the "intermittent speedo" as per the eBay add should of read "speedo doesn't work at all"!
Got back, started to take it apart and make a snagging list. First thing on the list was that speedo which seems to be an R1100S tradition reading the threads on here.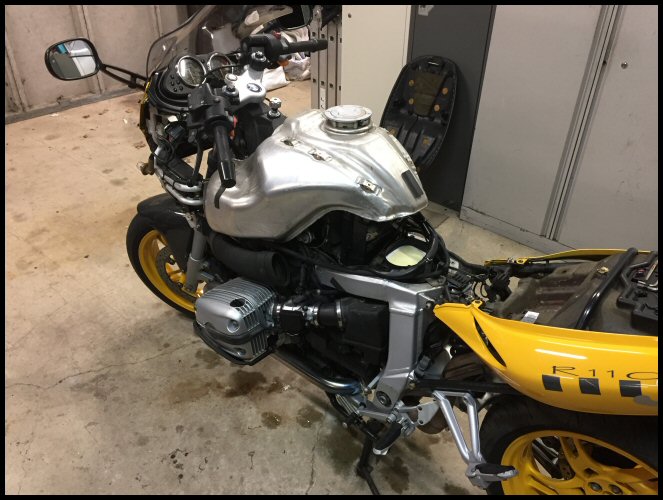 Items missing from the toolkit ordered...
Selection of new bolts, trim and luggage rails purchased...
Corroded frame bolts replaced...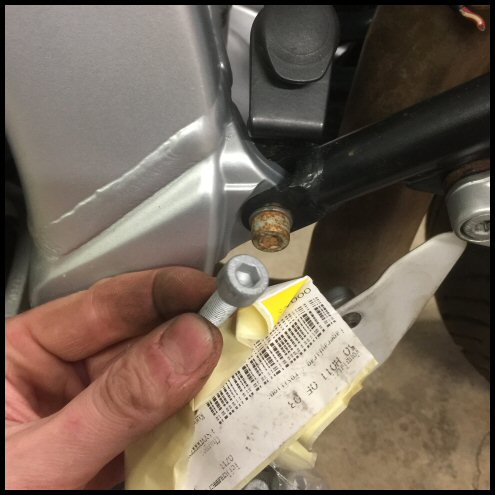 Service time; oil & filter...
Battery was cable tied in... badly. New rubber retaining strap ordered from BMW.
Speedo wiring checked for continuity and traced to this corroded multi-plug under the seat/side panel. Connector replaced and speedo operation restored.
Another really corroded multi-plug in the same rear wheel area; this time for the auxiliary DIN power socket. It's a handy battery trickle charge point, so had to be fixed.
I purchased a section of good harness from Motor Works, cut out the old, installed the new...
... and back-sealed the plug. Something BMW should of done...
Three mounting screws had taken their toll on the number plate. Plus, no affiliation with "Preston Superbike" so off the plate came for a dealer plate...
The bike actually has a centre silencer delete pipe. This i'm happy with as it saves weight and sounds better. But unfortunately with said pipe you lose you centre stand rubber stop. So, my centre stand was hitting the paralever lower arm.
Decided to make my own stop... and while off, tidied up centre and side stands...
Then a set of rather expensive BMW boxes turned up... but they are very good condition and I needed them so what else are you to do?
Boxes hung at last...
Valet time, plastics 'restored' and a good polish...
And that's it really...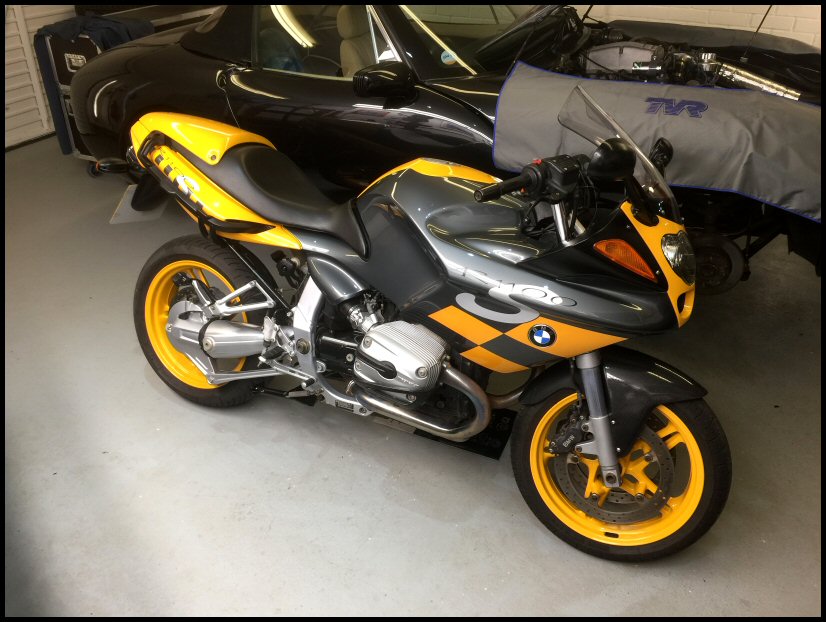 What do I have in store next? Well, nothing really. I'm not the type of expert rider to yearn for handling or power enhancements. The bike will simply be a case of keeping it well maintained, presentable and see where we are in ten years' time. I think any BMW oil-head is an investment. I plan to use this thread to document that story. There are some minor cosmetic issues that still bug me but I have to get out my usual mindset with this one... It has to be used!
My thoughts on how it rides doesn't mean much, but i'm happy. Loads of grunt and the boxer engine has character. The gearbox is just as agricultural as the K1... I thought that would be better being 15 years newer but it's the same clunky old thing. I think the handlebars have been raised by poking the dampers through and mounting the clip-on grips above the yoke. This makes it easier on the arms and it's just fine. Kind of fortunate really because if it was uncomfortable, i'd still want to keep it.
I have a French road trip coming up, so next update soon, hopefully glowing reports of excellent reliability and comfortable effortless cruising... hmmm we'll see! Thanks for reading.
James.